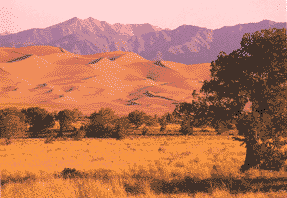 From the postcard: Great Sand Dunes National Monument, Colorado -- A relatively stable mass of sand towering 700 feet above the San Luis Valley floor, the Great Sand Dunes are trapped in a counterbalancing wind pattern, created by the three low passes in the Sangre De Cristos Mountain Barrier. Medano Creek and others carve back at the base of the Dunes further hindering their Northeast movement.

Hey everyone,
Our travels took us East again to Durango. We took a brief pit stop there so Pete could decorate his body in a more elaborate fashion!! I have to admit I lived vicariously through him! I wished it was me.

The Dunes were absolutely amazing! We loved it so much we decided to take as much as possible home in our clothes and ears!! Unfortunately, in the process of taking sand, I forgot my tevas. :-(
From the postcard: Kissing Camels, Garden of the Gods, Colorado -- Erosion of Red Rock Cliff formed Kissing Camels, a popular sandstone formation along the roadside of Garden of the Gods.
Hey everyone,
The last place Pete and I ventured together was the Garden of the Gods. We were filled with unbridled enthusiasm as we wandered through this spiritual place! We made it through and got to the car just as the rain began to fly. We sacked out in Denver. I had two showers in one day. WOW! Spoiled!

Now I'm solo again.

Love,
me