From the postcard: These beautiful rocks are called The Needles -- located near the city of Custer, S.D. -- in the heart of the Black Hills. A road on the back side zigs and curves almost to the top -- all part of the Custer State Park of the Black Hills National Forest.
Hey everyone,
This is a great story. I drove into Black Hills Custer State Park and ran into a guy (Terry) I met at the Badlands. We decided to camp together since there were no more spots and he had one! We set up camp and went on an amazing hike to Harney Peak, the highest point in the Black Hills. At the top of the mountain we ran into two more people we'd seen at the Badlands. Jim & Neil joined us, as well. We saw the light show at Mt. Rushmore and went for beer in Keystone (small town).

The next day Neil and I went mountain biking on a gorgeous trail. We met up with Jim and Terry later. (Story continues on next postcard...)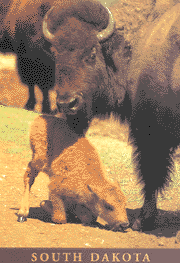 From the postcard: This little buffalo calf is just hours old, his mom looks with a watchful eye at the cameraman. He and his mother will join the herd of over a thousand head in Custer State Park and Wind Cave National Park, where they are free to roam 100,000 acres.
We all decided to go on this wildlife loop drive. We were on the road when an entire herd of buffalo crossed the road around us!!! OH MY GOD!!! It was intense!
We continued on to see big horned sheep and mountain goats. It can't be put into words how fabulous it was.

We ended the night with a feast and a campfire. We all have gone our separate ways, but maybe we'll run into each other again... Who knows...

Love,
me